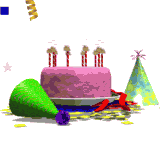 On January 21st we celebrated Andrew's First Birthday. Here are a few of the pictures taken during the party. A special thank-you to all of those who were able to attend.
Drew's Birthday Presents

Drew hamming it up for the camera.
Drew and Tara opening a present.
Drew finds the ribbons more interesting than the clothes Tara is holding.
Tara and Drew after opening another present.
Tara showing Drew his new truck.
Tara helping Drew with another gift.
Tara and Drew after opening his final present.
After presents we set Drew up with his own cake to eat. As you can see, he didn't do too badly...