I took the day off of work to attend the Woodward Dream Cruise on Friday (even though it is officially a one day event, cruisers are there all week long). In addition to the cruise, it was Tyler's 8th birthday. It's a good thing he likes cars! We left home around 4:00pm, and since the entire family can't fit in my Camaro we left Jayden at home. Still not enough room, so the kids get divided up between us and Dad & Mom. The weather was nice and there was a lot of cars to take pictures of. Figuring that the police would be shutting the cruise down soon, we left for home around 9:15pm. Here are a couple of my favorites pictures...
Friday, August 17th

My Dad's 1969 Chevrolet Chevelle.
My Dad's neighbor's 1967 Chevrolet Camaro. Thanks for the parking spaces, too!
A long time ago this was a "Hot Wheels" car, now it is a real life car!
After not getting enough sleep the night before, we got up early Saturday morning to get headed down to our spot on Woodward. Today we got started going down around 9:00am. Tara volunteered to drive so that I could take pictures on our way down. We stayed in our spot at the McDonalds just South of 13 Mile Road most of the day, although Dad & I did manage to walk up to the intersection of Woodward and Old Woodward, where GM sets up their Chevrolet display. On our way we stopped at the Athens Coney Island, which is another GM display. If Google Maps is anywhere near accurate, that is a 4.4 mile walk round trip. We hung out at our spot until about 8:15pm, when it started to sprinkle semi-steady, driving home straight up Woodward all the way into Pontiac. Here are some of the many pictures taken during the cruise...
Saturday, August 18th

Tara driving South on Woodward.
The Goodyear blimp enjoying the cruise.
Me taking a picture in the mirror.
Tyler hanging out in the back seat. I love that the guy in the next car is looking in the window!
The Delorean from "Back to the Future".
This car belongs to Gary & Mary, the parents of our friend Becky.
A monster truck version of a fire truck.
Tyler waving his sign to passersby.
A picture with Tyler's 'Rev 'Em Up" sign.
Samantha enjoying the cruise.
This car belongs to a member of the SSOA, a Camaro group I belong to.
Michigan's finest were out in force.
The only "General Lee" that I saw all weekend, a rough Dodge Charger.
The "Batmobile" even made an appearance.
Drew eating his french fries in Grandpa Gary's lap.
Sam posing in her new Statue of Liberty hat.
Tara modeling one of the kids hats.
The Channel 2 helicopter. I also saw Channel 4's copter flying around.
A TV & movie theme seems to be developing. Here is the Starsky & Hutch car.
Sam laying on our blanket in our curbside location (after some other folks left in the evening, we were slightly further back most of the day).
Just for reference, here is a satellite view of our locations at the McDonalds.
McDonalds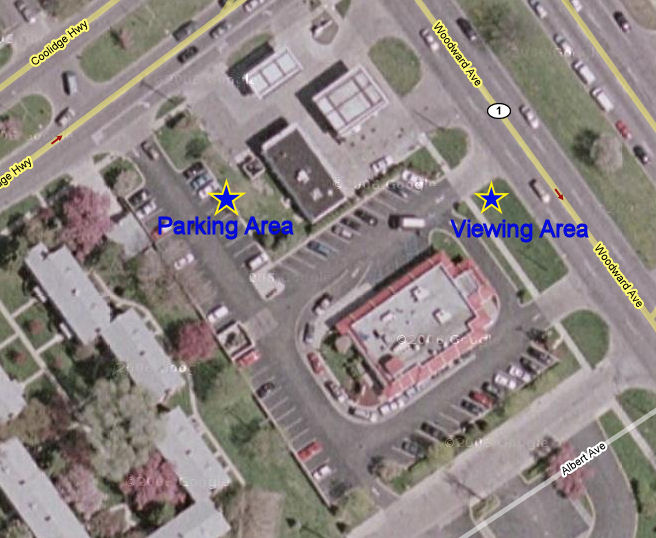 Satellite view of our locations.