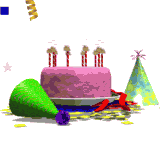 This year was one of those rare years when everything aligned correctly for Drew... His birthday fell on a Saturday, so he was able to celebrate with a party on his actual birthday instead of a few days before or after. Being his 5th birthday, Tara let him invite friends over for a "big bash" for the first time as well (all of the kids have had one big birthday party with a group of friends so far - except Jayden, her day will come). He was even able to see his Grandma Terry, who flew in from Florida for the special occasion (Drew had been upset when we were in Florida that her and Grandpa Gary make it to everybody else's birthday but not his - it didn't help when I told him that they miss mine too).
Drew chose to have a Spongebob Squarepants birthday this year, so we got the cake, plates, and accessories to suite. He spent that night at Grandpa Jerry & Grandma Gail's house on Friday night, and they took him out to pick out his own presents. They also bought him a new suit (minus the jacket) so that he looked extra handsome on his special day.
Drew, Tara, and I would like to take a moment to say "Thank You" to everyone who spent time with Drew on his birthday. You all occupy a special place in his heart, so it was nice that you were able to make the time to share your day with him. We also want to thank those who were unable to attend but were still thinking of Drew anyway - we missed seeing you. Once again, thank you to everybody!
Drew's 5th Birthday Party

Drew wanted to look his best for his birthday, so his Grandma Gail bought him this new outfit and shoes to go with it.

Drew took center stage to open his presents, and Tyler got the assistant job to help read the cards.

Drew showing off the new GeoTrax set that he got from Thad, Melissa, Hannah, Taren, and Tevin.

Drew's next present came from Gil, Noell, Adam, Veronica, and Lilly...

...and was a wallet with money inside!

Tyler did a good job reading all of the cards to Drew.

Tara gathered the trash as Jayden, Tevin, Nick, Veronica, and Donovan watched as Tyler read a card to Drew...

...as did Samantha, Adam, Lilly, Noell, Gail, and Jerry.

Drew was happy with his new Nerf gun from Jason, Tania, Elizabeth, Ben, Nick, and Aaron.

Tyler was reading a card to Drew as Donovan looked on.

Drew liked the new Yahtzee game that he got from Dwayne, Erica, Donovan, and Marissa.

Drew got a new Nintendo DS case from somebody.

Aunt Erva gave Drew a keychain game.

Grandpa Jerry & Grandma Gail got Drew a couple of new games for his DS. This one is Personal Trainer Cooking (the kids all like the Cooking Mama games that Becky got them addicted to).

Jam Sessions, a guitar game, was the other game that Drew got from Grandpa Jerry & Grandma Gail.

Tyler made this card for Grandpa Gary & Grandma Terry to give to Drew with their gift.

"Now that you're 5 it's your chance to dive into a birthday bash."

Drew got a new bag to store all of his baseball stuff in for his first season of T-ball, thanks to Grandpa Gary & Grandma Terry. Tyler is showing off the front side of his card as well.

Grandpa Gary & Grandma Terry also gave Drew the movie G-Force. Tyler was equally proud of the back side of the card that he made.

Rodney, Tara, Tyler, Sam, and Jay gave Drew some new Toy Story Lego's for his big day.

Here is Drew showing off the green army men Lego set that he got from us.

Please click here for page two of the photos