June 8th, 2013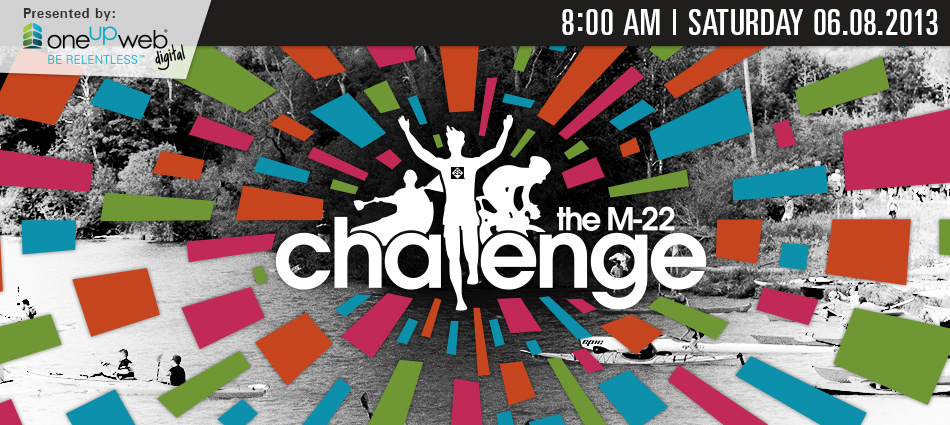 WHAT: This unique multi-sport event is challenging, but not impossible. Appropriate for any person of average physical capabilities from first time racers, to high school athletes and professional triathlon competitors, anyone looking for a healthy challenge will find this event of interest. Best of all, there's no swimming required! The challenge is there for the competitive athlete, however, if you can walk, run, paddle, and bike, the overwhelming beauty of the area and the camaraderie of those attending will make this event worthy of your participation.
THE COURSE: RUN – BIKE – PADDLE: The 22 mile-long course is designed to take the average athlete approximately two hours to complete. The M-22 Challenge will begin at Sleeping Bear Dunes National Lakeshore park (aka Little Glen Lake Picnic Area) located on the northwest corner of Little Glen Lake at 8:00am.
RUN: The event starts with the running portion where athletes will run south down M-109 and into the Sleeping Bear Dunes National Lakeshore "Dune Climb" park to face a steep and sandy climb up the dune. The reward at the top is the view! Competitors will then catch their breath in a fun run down the dune and along a groomed trail to M-109. On the road, runners will sprint back to the event site and transition area to complete the 2.5 mile run. Approximately half of the run will take place on pavement.
BIKE: The second portion requires athletes to bike 17 miles around Big and Little Glen Lake. Bike highlights include a pedal through downtown Glen Arbor, cycling along sections of the Crystal River and the famous M22, and of course, Inspiration Point. The Leelanau County Sheriffs Department will be leading the first few bikers around the course, but the rest of the pack is on their own. There will be volunteers at all major intersections, but keep in mind you must follow traffic laws and be aware of cars pulling in and out of driveways.
PADDLE: Transitioning from a bike to the water, the third and final portion of the event has participants paddling out and back into Little Glen Lake for 2.5 miles. Athletes are only allowed to use one (1) paddle to hand power their chosen craft (kayak, standup paddle board, anything else you can dream up! etc.) A two blade paddle is allowed, but in no way can the paddle be fixed to the craft. At the end of the paddle portion, athletes will jump out of their boats and run through the water to the finish line. (Participants need to wear or have a PFD on their craft).
The M-22 Challenge

One of the M-22 Challenge logos.

Another M-22 Challenge logo.

This is a map of the "RUN" portion of the event.

This is a map of the "BIKE" portion of the event.

This is a map of the "PADDLE" portion of the event.
With the description of the race out of the way, Jeff & I started off just after 8:00am in the morning for our race. I started out a bit faster than him in the "RUN" portion of the race, but I fear that my shoe selection wasn't the best today. I chose a pair of shoes that are extremely "airy", thus allowing an inordinate amount of sand into them. I was forced to stop shortly after the downhill climb of the dune to empty them out, and this was when Jeff passed me by. Had I not done that I think I could have maintained a somewhat healthy lead on him throughout the run, as it was I trailed him by 15 seconds after the first phase of the event, 20:53 to 21:08. (On a side note, Jeff's GPS watch showed that this section fell far short of the claimed 2.5 miles... I'm not sure, but based on our times I wouldn't doubt that was the case).
After our run it was time to climb aboard our bikes for the 17 mile ride around the course. I must admit that this is one area where I got a tad complacent and slacked off in my training. Unfortunately for me, it really showed in my time. I was aiming for less than 90 minutes for my time in the section, based on my last training ride, and I did end up beating that time - 1:27:06, but I was crushed by Jeff and his 1:15:23 time. I don't like to make excuses, but I am going to anyway... I did have to stop once to disconnect my rear brakes, as it felt as though they were rubbing and slowing me down along the way. I doubt that this would have made up the difference in our times (in fact, I'm certain it wouldn't have), but it would have improved my time at least a little had I not had to deal with this little issue. I think that either my rim or my tire itself is slightly out of round at one place, and that I will have to have it looked at professionally. I did attempt to fix it before the race, but obviously I was unsuccessful!
With Jeff now well out of my sights, I knew I stood no chance in catching him in the "PADDLE" portion of the race, as my one time in the kayak was no match for his experience. Sure enough, he trounced me once again, this time I posted a 47:39 to his 35:24. Of course it didn't help that I tipped my kayak over during the first leg of the triangle. I was just unable to touch bottom, so I struggled to drag the boat to a place where I could. I did my best to empty the water from the boat, but I still couldn't climb back in. I was forced to wait for another kayaker (I never did figure out if he was in the race or just on the water to help) and a police boat to come around and help me in. I finally drug myself into the boat with their help and the other kayaker pumped out as much excess water as he could before I finished the race. I was pretty bummed by this point, and I can honestly admit that I lost a lot of my motivation while floating and waiting.
Overall, I did (in my opinion) pretty crappy. My overall time of 2:35:52 was only better than one other person in our 155 member age group (yep, I finished 154th). Jeff stomped me, finishing with a time of 2:11:40, good for 136th in our age group. Overall Jeff finished at #632 and I came in at #789 out of a total of 821 competitors. Ugh... Next year we move up an age group, so maybe I'll be able to improve my ranking if not my overall time!
M-22 Challenge

Jeff and Rodney at the motel, ready to head to the race!

Amanda and her mother Vicky (Jeff's secretary), Jeff, and Rodney at the starting point of the race, waiting to begin.

A look at the crowd from the earliest waves making their way up the dunes.

Rod approaching the dune climb.

Jeff approaching the dune climb.

Rodney making his way up the dune (about halfway up the photo, on the left in the white tank top).

A closer look at Rod on the dune climb.

Jeff making his way up the dune.

Rodney trying to dig out his MP3 player that quit about halfway into a song so that he could hand it to Tara...

Jeff running after finishing the dune climb.

Jeff nearing the transition area where he would begin the "BIKE" portion of the race.

Rodney nearing the transition area.

A look at the kayaks lined up on shore.

Jeff walking his bike to the riding area (10 minute penalty if you rode your bike in the transition area).

Jeff getting his kayak into the water, about to start his paddling section of the race.

Please click here for page two of the photos