Drew was selected to play on the Holly Little League Majors District team this season, based on his play during the season as well as two sessions of tryouts for the team. We are looking forward to see if this group of boys can make a run this year... As always, check back here for pictures and game results!

The roster is below: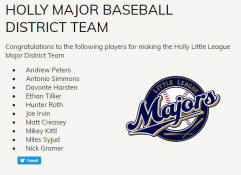 QT Tournament - Go here for the information regarding the QuadTown Intermediate All-Star Tournament taking place on June 27th & 29th.